Hey, how is everyone doing? I can't believe that we have made it to July already and are halfway through the year, where has the time gone. I had an amazing time reading in June and loved all of the books that I read. July has some amazing things happening for me and I can't wait for July to be here. One of the things happening in July is that I am helping with the Myth-Take readathon, Path or Pantheon!!!!! I am team captain of the War Path and can't wait for a retelling filled month.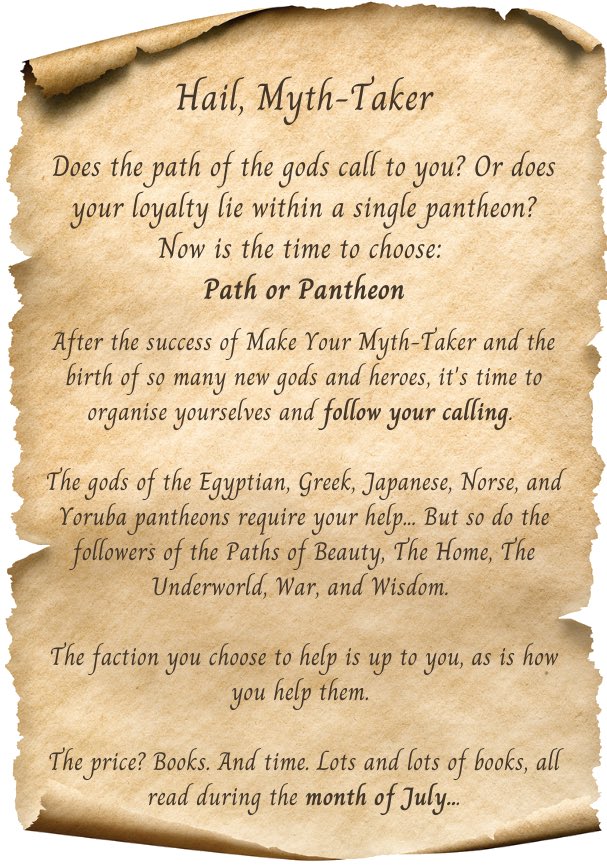 Without further ado, here is my TBR for July. Where the books are covering prompts for Myth-Take I will list them but there are a couple of extras that I would like to get to in the month.
Path or Pantheon TBR
Ares – Dark Story
Lost in the Never Woods by Aiden Thomas
When children go missing in the small coastal town of Astoria, people look to Wendy for answers.
It's been five years since Wendy and her two brothers went missing in the woods, but when the town's children start to disappear, the questions surrounding her brothers' mysterious circumstances are brought back into light. Attempting to flee her past, Wendy almost runs over an unconscious boy lying in the middle of the road, and gets pulled into the mystery haunting the town.
Peter, a boy she thought lived only in her stories, claims that if they don't do something, the missing children will meet the same fate as her brothers. In order to find them and rescue the missing kids, Wendy must confront what's waiting for her in the woods.
Tyr – Disabled Main Character
A Curse So Dark and Lonely by Brigid Kemmerer
Fall in love, break the curse.
Cursed by a powerful enchantress to repeat the autumn of his eighteenth year, Prince Rhen, the heir of Emberfall, thought he could be saved easily if a girl fell for him. But that was before he turned into a vicious beast hell-bent on destruction. Before he destroyed his castle, his family, and every last shred of hope.
Nothing has ever been easy for Harper. With her father long gone, her mother dying, and her brother constantly underestimating her because of her cerebral palsy, Harper learned to be tough enough to survive. When she tries to save a stranger on the streets of Washington, DC, she's pulled into a magical world.
Break the curse, save the kingdom.
Harper doesn't know where she is or what to believe. A prince? A curse? A monster? As she spends time with Rhen in this enchanted land, she begins to understand what's at stake. And as Rhen realizes Harper is not just another girl to charm, his hope comes flooding back. But powerful forces are standing against Emberfall . . . and it will take more than a broken curse to save Harper, Rhen, and his people from utter ruin.
Montu – A Book Featuring a Battle
To Kill a Kingdom by Alexandra Christo
Princess Lira is siren royalty and the most lethal of them all. With the hearts of seventeen princes in her collection, she is revered across the sea. Until a twist of fate forces her to kill one of her own. To punish her daughter, the Sea Queen transforms Lira into the one thing they loathe most—a human. Robbed of her song, Lira has until the winter solstice to deliver Prince Elian's heart to the Sea Queen or remain a human forever.
The ocean is the only place Prince Elian calls home, even though he is heir to the most powerful kingdom in the world. Hunting sirens is more than an unsavory hobby—it's his calling. When he rescues a drowning woman in the ocean, she's more than what she appears. She promises to help him find the key to destroying all of sirenkind for good—But can he trust her? And just how many deals will Elian have to barter to eliminate mankind's greatest enemy?
Hachiman – A Book Featuring Archery
Graceling by Kristin Cashore
Katsa has been able to kill a man with her bare hands since she was eight—she's a Graceling, one of the rare people in her land born with an extreme skill. As niece of the king, she should be able to live a life of privilege, but Graced as she is with killing, she is forced to work as the king's thug.
She never expects to fall in love with beautiful Prince Po.
She never expects to learn the truth behind her Grace—or the terrible secret that lies hidden far away . . . a secret that could destroy all seven kingdoms with words alone.
With elegant, evocative prose and a cast of unforgettable characters, debut author Kristin Cashore creates a mesmerizing world, a death-defying adventure, and a heart-racing romance that will consume you, hold you captive, and leave you wanting more.
Ogun – A book with a Metallic Cover
A Thousand Ships by Natalie Haynes
This is the women's war, just as much as it is the men's. They have waited long enough for their turn . . .
This was never the story of one woman, or two. It was the story of them all . . .
In the middle of the night, a woman wakes to find her beloved city engulfed in flames. Ten seemingly endless years of conflict between the Greeks and the Trojans are over. Troy has fallen.
From the Trojan women whose fates now lie in the hands of the Greeks, to the Amazon princess who fought Achilles on their behalf, to Penelope awaiting the return of Odysseus, to the three goddesses whose feud started it all, these are the stories of the women whose lives, loves, and rivalries were forever altered by this long and tragic war.
A woman's epic, powerfully imbued with new life, A Thousand Ships puts the women, girls and goddesses at the center of the Western world's great tale ever told.
Other Books
Bloodwitch by Susan Dennard
Bloodwitch is the third book in The Witchlands series by Susan Dennard so I will not spoil anything by putting the synopsis. I am really enjoying my time reading this series, and you can check out my reviews of Truthwitch, Windwitch and the novella Sightwitch if you are interested in hearing my thoughts.






One Last Stop by Casey McQuiston
For cynical twenty-three-year-old August, moving to New York City is supposed to prove her right: that things like magic and cinematic love stories don't exist, and the only smart way to go through life is alone. She can't imagine how waiting tables at a 24-hour pancake diner and moving in with too many weird roommates could possibly change that. And there's certainly no chance of her subway commute being anything more than a daily trudge through boredom and electrical failures.
But then, there's this gorgeous girl on the train.
Jane. Dazzling, charming, mysterious, impossible Jane. Jane with her rough edges and swoopy hair and soft smile, showing up in a leather jacket to save August's day when she needed it most. August's subway crush becomes the best part of her day, but pretty soon, she discovers there's one big problem: Jane doesn't just look like an old school punk rocker. She's literally displaced in time from the 1970s, and August is going to have to use everything she tried to leave in her own past to help her. Maybe it's time to start believing in some things, after all.
There you have it, the books that I plan to read in July. Fingers crossed I can get to them as there are some extremely anticipated books on this list.